Calm Family Dog Training Graduates
I feel like I have my life back! Heidi is a very energetic puppy and has been difficult to live with for the last 4 months. Calm Family Dog Training worked miracles with her in just one week. I can sit and watch TV again. I can walk her without fear of being pulled over. I am amazed that Heidi is capable of being a calm dog without me scolding her all the time. Sue is a fantastic trainer and very supportive. I highly recommend Calm Family Dog Training to anyone needing help with their dog!
Charlotte Lund, San Marcos, TX
We took our 6 month old golden, Riggs, to Sue for the 1 week puppy board and train. He is overall a fairly calm puppy, but needed basic manners. Also, any second we weren't watching, he was taking things off counters or anything else he wasn't supposed to have. That week with Sue gave us everything we needed! Riggs walks so well on a leash now, waits at all doors, including his crate, and waits for his food. Probably the biggest game changer though was the "place" command. We can put Riggs on his place bed and he stays there! No more going to look for him every 30 seconds to see what he's gotten into when I'm trying to get ready for work or cook dinner. Of course, he's still a puppy and tries to see what he can get away with--it's not fool proof, so make sure your expectations are in line with reality and that you're willing to follow up with what Sue teaches. We've had him back for about a week and a half now, and it's been a noticeable change from day 1 until now with how less often we have to redirect him. Also, Sue does use a prong collar (and an eCollar if you do the 2 week board and train) along with positive reinforcement, so make sure you are ok with those methods of training. Sue posts videos and pictures each day during the training so you can follow your dogs progress, which was awesome to see. I highly recommend her!
Laura Carter, Austin, TX
I have a 6 month old lab mix who was way out of control. As a student, I needed her to be calm around the house so I could do my school work. Sue was a life saver! I can now work, cook, or clean while Koda focuses on her job. Our life has been brought back to order!
Cristal Leon, San Marcos, TX
I run a business out of my home, so it is kind of grand central station. Maggie is much improved on leash, going in her crate, sitting, coming and waiting to eat. Sue did a great job with my pup, Maggie. I felt like she was well cared for while with her. I really enjoyed the progress photos and videos. Maggie has gotten over many of her bad habits. Thanks Sue!
Angie Francis, Kyle TX
My hyper pup responded to Sue's training techniques immediately. He continues to improve and is a lot happier. Sue stands out by customizing our dog training to fit our specific lifestyle. She is professional, punctual, and I like how she offers help with questions between classes.
Macy Graham, San Marcos, TX
Sue is absolutely amazing and has such a gift for dog training. My dog Jax and I have only done three 1 hr sessions with her and yet the changes that have taken place in my goldendoodle are absolutely unbelievable. To my surprise I was actually able to take him to a dog friendly restaurant after the very first session and he behaved like an absolutely gentleman!!! With Sue's help I am confident I will finally have the dog I'm proud to take out in public and never be afraid that he will run off or misbehave. I highly recommend Calm Family Dog Training and give 5 stars all around.
Robin Squires, San Marcos, TX
Sue helped me and my dog tremendously with basic, easy to understand commands. He did beautifully with her from Day 1 and, after four lessons, is a totally calm, and responsive dog. I appreciated Sue's thorough explanations of what and why she was doing certain things, and that she allowed me to practice with him while she was able to give feedback. She trains people how to shape their dog's behavior to fit the lifestyle they want with their dog. It was totally worth the money and was an easy, educational experience. I will definitely use her again.
Amy Meeks, San Marcos, TX
Sue is great! She addressed all the issues we were having with our dog. I'm very happy with her services. Xolo is well behaved now!
Miriam Gonzalez, Seguin, TX
My blue heeler, Winston, was a handful from the beginning and i was running out of options to get him to listen to me and obey the commands i was giving him, so i gave Sue a call and she came to my house and after the first of in home training with her i was already seeing a change in his behavior!! He is now listening to me and doing what he is told To do! It's a night and day difference with his behavior so far!
Cody Johnston, New Braunfels, TX
We had a wonderful experience with Sue and her Stay and Train Session for our dog, Penny. Sue has this incredible, calm aura and Penny seemed to love her! Penny would knock my son and I down as she naturally has a playful and rambunctious attitude. So much that I couldn't walk her and our other (smaller) dog at once and our son couldn't walk Penny at all as she was too much to handle. Now she is just as sweet and playful, but in a much more controlled manner. We can get chores done around the house without her under our feet and we can all walk her independently or with our smaller dog. We also had trouble with her jumping to greet visitors, but now she will stay on her cot which allows our guests to approach and greet her. This also allows for us and our guests to be able to easily converse. Sue was honest that it will take continuous practice for Penny but she would answer any questions we may come across. We definitely recommend Calm Family Dog Training to anyone considering it!
Paige Johnson, Luling, TX
I started the 5 week training program with Sue in early May because my four month old border collie did not listen, constantly (and I mean constantly) bit at hands and feet, and just all around misbehaved. Within the first week it was like I had a different dog. Sue's methods are easily understandable and translate well long after she has left. I am happy to say that I have a well behaved little pup now. Thank you Sue!
Tyler Frost, San Marcos, TX
I found Calm Family Dog Training and did major research. I relied on any and all reviews I could find to make a decision. Because of that I feel the need to leave my own review on my personal experience and hopefully help others with their decision should they face the same choice we were facing. Our lab pup had some excitement issues. For lack of a better way to describe it...she had NO off switch. She was going full out all the time. She would get so excited she would tackle the kids and then proceed to lick them to death. We tried walking her more in addition to play in hopes that she would calm down. We learned walking her was hard. Labs are strong pups and she had no issue with pulling on the leash hard enough to drag a 240lbs, 6'2" man behind her. All that said just so I can tell you this...our lab has been a different dog since she came home. She has an off switch now. The "place" command has been the greatest thing ever. She is no longer pouncing on our girls. She comes in and she goes to "place" or "down" and remains there. She still tries to test her boundaries by breaking her command on occasion but it is easily redirected back to what she should be doing. On walks, she stays with us. Walks right by me without pulling. She auto sits when we stop 99% of the time. She she misses a sit it is usually because she is distracted by other animals, people, cars, etc. but again, easily redirected. When go to the back yard she is still under command until "break" is given and then she unleashes and becomes the playful, hyper, fetch loving dog that we love. I am sure I am missing something. The review is mainly for folks like me who looked for reviews to make a decision. I am completely satisfied with the decision to contact Sue and Calm Family Dog Training. I do not do reviews. Most people don't it seems...unless they are upset or had a bad experience. Sue is awesome. On a side note, our pup has never been able to meet new people without cowering down a little and peeing everywhere. Sue was the first person she met for the first time and seemed at ease with. I highly recommend Calm Family Dog Training. If you are willing to stick to the plan that Sue develops you will not regret the decision.
Brain VandeWalle, Kyle, TX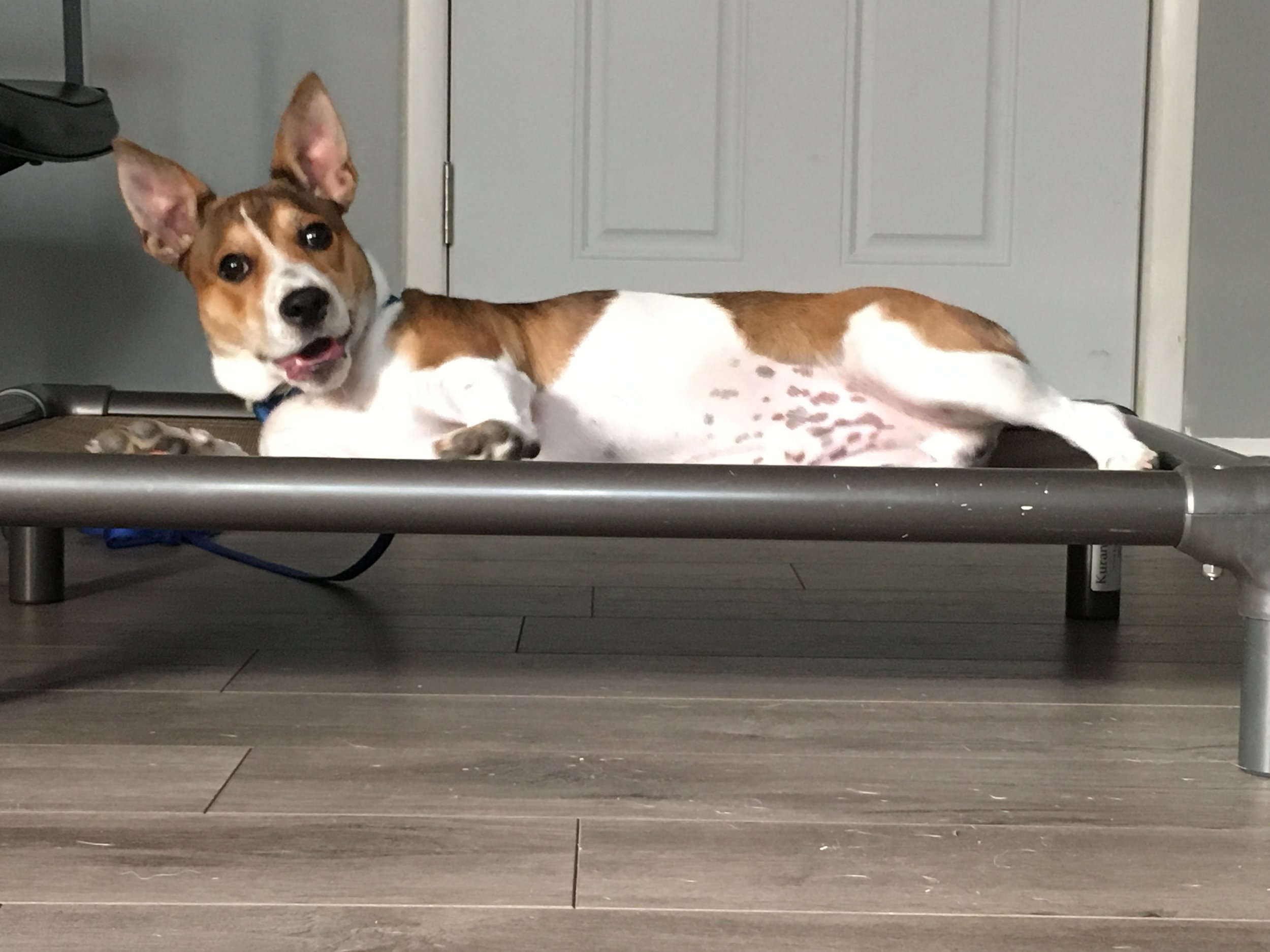 Our dog RedMan recently completed Sue's 1 week Puppy Basics Jump Start Stay and Train Program. All I can say is WOW!!! What a difference 1 week with Sue made! Our 5 month Rat Terrier pup was so full of life but we were unable to control him. Walks in public were out of the question. He was excited that he turned into a nightmare anytime we attempted to take him for walks. We decided that professional help was necessary. In 1 week Sue was able to teach him the basics that we were unable to. We are now able to take morning/afternoon walks without fear of him hurting himself or others. He's listens and understands his commands of heel, sit, down, stay, place, take it, leave it...but his favorite command is "break" when he's able to let loose and be the playful pup he is :) During the process Sue was amazing. She took great care of our boy while he stayed with her and posted his daily progress online for us to view. When it was time for his return home Sue took her time to make sure we had a good understanding of how to continue the progress that she started so he wouldn't revert back to his old habits once home. Sue clearly loves what she does and it shows. She's the best and I would recommend her to anyone looking for a dog trainer!!!
Laura Garza, San Marcos, TX
I started my 2.5 month old beagle to Sue in desperate need of help back in April. We were 100% clueless whenever it came to having a puppy. So we decided on Sue's 3 week Stay and Train program. Grace, my beagle, came back and we were super proud of what she had learned. She's now doing great with crate training, doing MUCH better with potty training, waits to get out of her crate when we open it, she waits to be fed we make her sit and wait until we command her to eat, she's also still doing well with her place… Sue is still taking Grace in and boarding her as we travel and works with her while we're gone and Grace is with her. We're happy with this choice we chose for Grace. She's a great dog and can't wait to see how she progresses the next few months. Thanks Sue for your help in our time of need and thanks for guiding us in the right direction 🙏
Trish Hickman, San Marcos, TX
Our family chose the 5 week course where we met once per week. Our dog, Razzy, who is a 2 yr old Blue Heeler/Australian Shepherd mix, was aggressive/very protective towards other people. This training program trained us as well as Razzy. "Place" is one of the best things that has helped Razzy to be calm/feel safe during unexpected guests coming to our house. Sue is extremely passionate about what she does. She taught us several ways to help Razzy that we didn't even realize were hindering her. Thank you Sue!
Keri and Thomas Fryer, New Braunfels, TX
Sue is wonderful!!! We have two 3 year old dachshund brothers that barked incessantly at strangers and not very sociable. And walking them was a struggle. One of the boys pulled so bad. She came in and took on the challenge. By the second week there was such a difference!! The barking has slowed down tremendously. And now they are such good boys on their walks. No more pulling!!! We have guests in our home and now they sit so quietly while we visit. It's so wonderful!!! Thanks so much Sue!!!!!
Angie Burke, San Marcos, TX
Sue came to our house and was so helpful with our doggie issues. We are practicing not jumping and when to bark ( or not bark) we have new leashes and look forward to traveling with well behaved dogs. Thank you Sue!!
Iris Martin, San Marcos, TX
Sue helped me with my dog Beaux. He used to be a nightmare to take on a walk because he would bark at everything and anyone. Now he is like a whole different dog! Love to take him on walks. Sue took her time I'm not only training my dog but also teaching me. I'm looking forward to all the things I'll be able to do with my dog now. I highly recommend Calm Family Dog Training for all your training needs!!
Patricia Sonnier, San Marcos, TX
My big girl Honey attended Sue's 2 week stay and train program. Honey is almost 90 lbs and needed to learn some manners. In just 2 weeks, Sue was able to teach Honey how to stay in place, walk on a loose leash and behave when we are in public. I have been so impressed with Sue's dedication and communication throughout the entire process. Thanks so much Sue!!! - Kayla & Honey Bunny
Kayla Coale, San Marcos, TX
"Kubo lost his eye to a rattlesnake at 7 weeks old and was babied ever since. He needed to learn manners or we would not be able to keep him. After just the first lesson of Sue's 5 Lesson Private In Home Program, I am amazed at how well Kubo is doing, He slept in his crate aka Kubo Cave. He has taken to his place well! He was on it for 20 minutes 3 times today. I walked him 2 times and it was fabulous not to be dragged and be in control."
Tanua Cisneros, San Marcos, TX
I "signed up" for Sue's short session for our pup, Levi. It was basically Sue training us (hubby and myself) just as much as our Levi. She's very patient and thorough; wanting to make sure we understood our role in Levi's behavior and how our communication with him matters. She clearly enjoys what she does and wants to make a difference. After our time with Sue we could already see a difference in Levi. Were eager to continue to build on what she taught us. Highly recommend!.
Tracy Gunn, Kingsbury, TX
Sue took our two dogs from sweet but willful to obedient and structured (and still sweet!) in just 2 weeks. They are big, strong dogs who were literally hurting our shoulders just to walk them. Now they walk calmly in a Heel at our side and Auto-sit whenever we stop. It is SO much more enjoyable to take them for walks! Having a well-communicated plan for continuing their training once at home takes a huge load off of me. This investment in training was definitely worth every penny. She gets my highest recommendation! 5 Paws Up! 🐾🐾🐾🐾🐾
Jeannette Jacob, Virginia Beach, VA
Sue came by for her short program and helped us with Pops. Now, instead of getting into everything he shouldn't, chewing and having to watch him every second - Pops stays on place! Thank you Sue!
Kristin Cole, Austin, TX
Lucy's owner described her a barking excessively at other dogs which would prevent her from walking her. Lucy would also nip and jump at guests when they come in the house.
Lucy's owner just let me know that she is moving and very happy to say that Lucy remained calmly on place while the movers were in and out of the house.
Kim Carbone, Pompton Plains, NJ
Mala was a sweet, overly excited, very smart but pushy, young golden retriever. I worked with her and her owners in a private lesson. I just received the below note from Mala's owner.

"Your training tips and ideas were great in handling a touch to train situation. After only a couple of weeks Mala is listening better and as you can see. Much mellower."
Donna Israni, Boonton, NJ
"Molly is a very anxious dog. She suffers from separation anxiety." Sue taught her the Place command which has increased her confidence. "Today Molly stayed on Place while the movers are in and out."
Kim Carbone, Pompton Plains, NJ.
Bella is the sweetest dog in the world- minus one bad habit...... she will attach herself to my leg when I'm on work calls. Sue came to work with us one afternoon, and taught us all the "place" command. We've continued to practice, and I'm pleased to share this photo of Bella happily in place- happy dog, happy work calls, happy family. Thank you Susan
Vivian Harrow, Millburn, NJ
"Sue worked wonders with our dog. Frankie at the time was an 70lb pitbull puppy. She was a great dog in every way however would get too excited when someone came to the door and would jump.
A dog that size is not only intimidating but can also knock you down, and a lot of our friends had small children. Sue came over and in one day taught Frankie "place". Frankie loved her immediately and also seemed calmed and eager to please. Sue also gave me the tools and lessons necessary to continue constant reinforcement of her techniques to help Frankie achieve our goals together.
Sue's training definitely worked and these days Frankie is very lax… even when the doorbell rings."
Christine Samiel, Woodland Park, NJ
"Kyra is our 8 month old hound mix puppy. She is very leash aggressive and jumps continuously on people and furniture. She is over friendly and just generally disobedient when people come to the house. Sue came over to meet Kyra and after spending only two hours with us there was already a noticeable difference in Kyra's behavior. As Sue was teaching Kyra, she was also teaching us how to command and control, which is working out wonderfully. We have a much better behaved, calmer puppy. We would definitely recommend Sue as a trainer."
Neil DeBonte, Pompton Lakes, NJ
"I am so happy to be able to walk my 90 lb golden retriever on the street again without him pulling me. Sue did a wonderful job teaching him even though he is 11 years old."
Betty Harper, Pompton Plains, NJ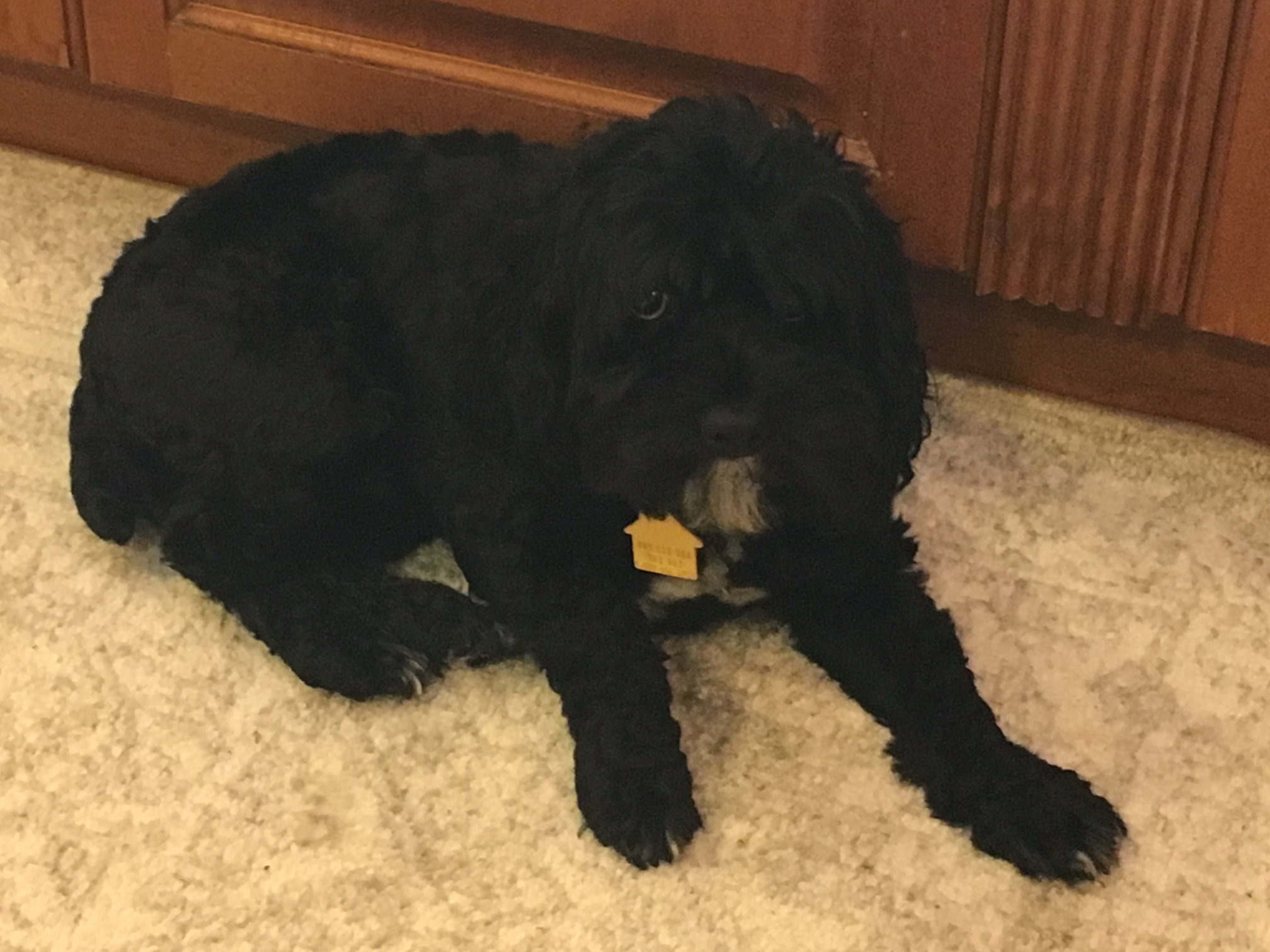 "Sue was the very first person that has ever come to my house that my dog didn't bark at and get anxious with. I couldn't believe it! My dog instantly loved her and never barked once. Sue definitely has a lot of advice and knowledge on how to calm an anxious dog and make them feel more secure, happy, and settled. She also answered all my questions and went above and beyond to give me helpful training tips for my 3 year old dog. Thank you Sue!"
Rochelle Baitzel, Kinnelon, NJ